There's never a wrong time to go vacationing. Never. Stop putting it back, get that leave from your work, make a plan, and book your tickets.
That vacation that you take now might just be the best thing that's happened in a long time. One of the best places to visit on this beautiful planet is Lake Tahoe.
Especially if you are a nature-loving person, who could get lost for hours watching the trickle of water or the slow-moving clouds roll tantalizingly above your heads as you lay back in a warm blanket with your loved ones.
Lake Tahoe is the perfect vacay spot for everything, in our opinion, with sprawling waters, beautiful scenery, trees as tall as mountains that they seem to prod awake the sun, and the smell of earth everywhere, Lake Tahoe is indeed a haven.
And we're breaking down the best time to visit Lake Tahoe, what to do at Lake Tahoe, and everything else and then a little bit more. 
What is Lake Tahoe known for?
On the American side of the Sierra Nevada, Lake Tahoe borders California and Nevada. This gorgeous lake, one of the deepest freshwater lakes in the world, is teeming with local wildlife and plants.
Lake Tahoe is the largest alpine lake in North America and ranks second in size in terms of volume only to the five Great Lakes with 122,160,280 acre-feet (150.7 km3). It is the second-deepest lake in the US, after Crater Lake in Oregon, at 1,645 feet (501 metres) deep (1,949 ft or 594 m).
When the lake developed roughly two million years ago, it was a part of the Lake Tahoe Basin; the lake's present shape was sculpted during the ice ages. It is recognised for the beauty of the mountains in the area as well as the clarity of its water.
Incredible popular, Lake Tahoe welcomes 15 million people each year. It's easy to see why; this picturesque area is home to numerous companies that were inspired by San Francisco, a wide choice of food options, and warm hotels. Most significantly, Lake Tahoe is well-known for its proximity to nature and gorgeous scenery.
Due to its location on the border of California and Nevada, Lake Tahoe receives almost three million visitors each year. The lake contains California's first submerged trail.
Fun Activities You Must Try At Lake Tahoe
C'mon, you are at Lake Tahoe, everything is a fun activity. That being said, we're still going to be exploring certain activities that you just cannot miss out on when you're at Lake Tahoe.
Emerald Bay State Park
Touted as one of the things that you just cannot leave Lake Tahoe without doing is a visit to the Emerald Bay State Park. A place made just for humans to appreciate the beauty of nature, Emerald Bay State Park is one of those I will never forget in my life kind of pictures. Anyone wishing to enjoy Lake Tahoe's beauty must visit this state park, which was carved by moving glaciers millions of years ago. This inlet on the southwest shore is famous for its vibrant granite cliffs and breathtaking vistas and is protected by high trees. 
The Gondola at Heavenly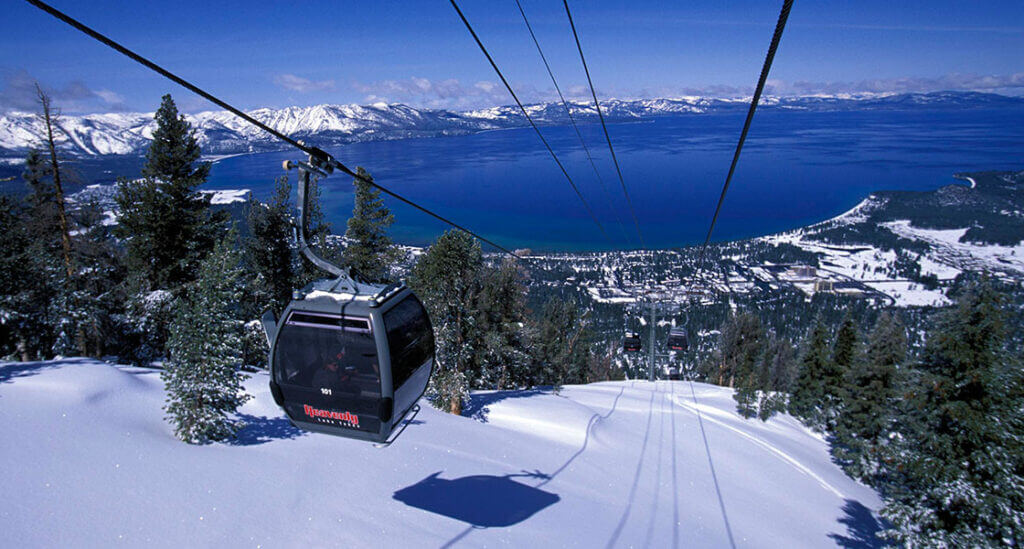 This is a personal favorite of mine. A tiny little glass box that transports you across the skies, albeit with the support of some very strong cables, it is still something you have to experience. Just the wind, you, and your loved ones. Featuring breath-taking views of Lake Tahoe and the Sierra Nevada mountain range, you are transported 2.4 miles up the mountainside. Halfway up, at an observation platform, riders can disembark for even more breathtaking views.
Donner Memorial State Park and Emigrant Trail Museum
The Donner Memorial State Park and Emigrant Trail Museum honor one of the worst eras in American pioneering. To honor the Donner Party, the legendary group of explorers who died during the ferocious Sierra Nevada winter of 1846–1847, you can go to this majestic stone memorial. Approximately 90 emigrants used to be a part of the group, and they were headed to California when their waggon train encountered a horrible winter. Among the pioneers, hardly 50% were still alive (many by resorting to cannibalism). The Emigrant Trail Museum is near to a 22-foot-tall stone monument.
Van Sickle Bi-State Park
If like a regular person you learnt how to bike when in middle school, then this is another must-visit spot when at Lake Tahoe. Van Sickle Bi-State Park is located just south of Stateline, Nevada. Every day of the year, from sunrise to sunset, the park is open to pedestrians; however, from May 1 through October 31, it is only open to automobiles. Van Sickle Bi-State Park distinguishes itself from Lake Tahoe's many other outdoor areas in three ways: it can be reached on foot from the casinos; it accepts equestrians; and it offers a connecting trail to the renowned Tahoe Rim Trail. The Van Sickle family, who donated the 542 acres to create this state park, ran a stable here until the 1990s and had a large number of horses.
When is the best time to visit Lake Tahoe and why?
If you want to go trekking, swim in the lake, and enjoy time at the beach, summer is the best time. The summer months have some spectacular weather. The water is too chilly to swim in even though the temperature is frequently in the 70s in June.
Even so, it is a perfect time to go hiking or relax on the beach. The lake is warm enough to swim in by the months of July and August when the temperature has risen into the 80s.
There are other festivals and activities at this time of year. So, the choice is really up to you.